My Blog
Posts for tag: gum recession
By Jose I. Arauz, DMD, PA
August 06, 2018
Discover the aesthetic benefits of getting this cosmetic procedure.
Do you find your smile less-than-attractive because you feel like the only thing you see when you smile are your gums? This look is often referred to as a "gummy smile," and while this issue is purely cosmetic we understand that it can make people feel embarrassed by their appearance. If you are someone who is dealing with this problem, our Jacksonville, NC, dental implant specialist, Dr. Jose Arauz, can help with cosmetic gum surgery.
When gum tissue looks like it's taken over, it's difficult to see those beautiful pearly whites that you have. This is where cosmetic gum surgery comes in. This procedure can help correct this imbalance and improve the shape and contour of the gums while improving the length of the teeth to make your smile more even and attractive.
Of course, sometimes people are dealing with the opposite problem where their gums have started to recede, making teeth appear longer. Receding gums can be a warning sign of something more serious such as gum disease. Of course, something as simple as brushing too hard could also lead to receding gums. Visiting your Jacksonville dentist at the first sign of gum recession is important, especially if the cause is gum disease.
Regardless of whether you have excess gum tissue or a receding gum line, cosmetic surgery may be the best approach for improving your appearance; however, if we do detect gum disease we will need to treat that issues and get your condition under control before we perform any cosmetic dental procedure.
In the situation of gum recession, we perform simple grafting techniques that involve removing some tissue from the roof of the mouth and placing it on the receding areas of the gums. Over time, this will stimulate the growth of new cells and with it new gum tissue.
For those with gummy smiles, the process is a little simpler. We will only need to remove some excess gum tissue from these areas to reveal more of your teeth and to improve symmetry and also evenness. Gum surgery may also be used along with other options, such as braces or veneers, to greatly improve and enhance your smile's look and shape.
Do you want to feel confident in your smile again and think cosmetic gum surgery could be the solution you've been looking for? If so, it's the perfect time to call our Jacksonville, NC, dental office and schedule a consultation with us.
By Jose I. Arauz, DMD, PA
August 01, 2017
If your gums are starting to recede find out what might be going on.
Have you suddenly noticed that your teeth are starting to look longer and that your gums have started to pull away from your teeth? If so, you may be wondering what's going on and whether this warrants a trip to visit our Jacksonville, NC, general dentist, Dr. Jose Arauz. We are here to tell you why you might want to pick up the phone and give us a call if you notice these changes in your gums.
So, what exactly do receding gums actually mean? Well, it could be warning you that you have gum disease, a chronic bacterial infection that can kill healthy gum tissue and even go as far as to cause tooth and bone loss.
If you are noticing receding gums then you could be dealing with gum disease. If this is the case it's important that you visit our Jacksonville dentist right away for treatment.
How will my dentist treat my gum recession?
If you have only minimal gum recession then coming in for a professional deep cleaning may be all you need to get your gums back on track and healthy again. During this cleaning, we will remove plaque and tartar buildup from your teeth, gum line and even tooth roots.
If you are dealing with severe gum recession then we may need to perform gum grafting surgery to improve the shape and contour of your gums. Remember, the sooner you seek treatment the better. When in doubt about your oral health, give us a call and ask. Your mouth will thank you.
If you notice any changes to your gums, it's important that you get the issue checked out right away. And if you are dealing with tooth loss, it's time to call our Jacksonville, NC, dental implant specialist right away for a consultation.
By Jose I. Arauz, DMD, PA
September 18, 2016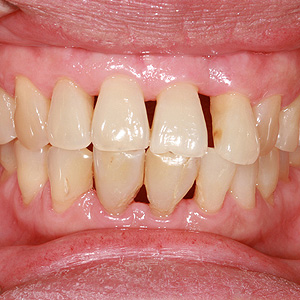 Your teeth are meant to last a lifetime. Even with wear and tear from years of eating and biting they can continue to function properly and look attractive well into your senior years.
Teeth are resilient thanks in part to enamel, the hardest substance in the human body. But the gums also contribute to this resilience: besides attractively framing the teeth, they protect the dentin and roots below the enamel covering.
Unfortunately, the gums can shrink back or "recede" from their normal place. Not only does this look unattractive, the recession can also expose teeth to disease and cause tooth sensitivity to temperature changes or biting pressure.
There are a number of causes for gum recession, some of which you may have little control over. If, for example, your teeth come in off center from their bony housing, the gum tissues may not develop around them properly. You might also have inherited a thinner type of gum tissue from your parents: thinner tissues are more delicate and susceptible to recession.
But there are other causes for which you have more control. Over-aggressive brushing (too hard for too long), ironically, does more harm than good as it can injure your gums and cause them to recede. More likely, though, your recession is a direct result of neglecting proper hygiene for your teeth and gums.
When teeth aren't properly cleaned through daily brushing and flossing, a thin film of bacteria and food remnant called plaque builds up on tooth surfaces. This can trigger periodontal (gum) disease, which subsequently causes the gum tissues to detach from the teeth and often recede.
To reduce your risk of gum disease, you should gently but thoroughly brush and floss daily, and visit us for cleanings and checkups at least twice a year. If you have a poor bite (malocclusion), consider orthodontic treatment: malocclusions make it easier for plaque to accumulate and harder to remove.
Above all, if you begin to see signs of gum problems — swelling, bleeding or pain — see us promptly for an examination and treatment. Dealing with these issues early is the best way to ensure your gums continue to do their jobs for the long-term.
If you would like more information on the treatment and prevention of gum disease, please contact us or schedule an appointment for a consultation.